Pornstar Info
Videos with Seth Santoro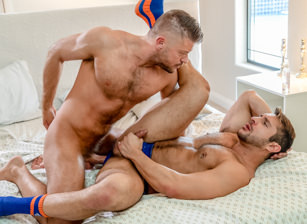 Description :
When Jack Andy challenges his boyfriend Seth Santoro to a slut contest Seth is definitely up for the challenge. He's going to show Andy just how nasty he can be. Seth sucks his huge hairy cock all the way down to the balls and Jack takes care of Seth's perfect hairy ass. These two studs are uninhibited and nothing is too wild for these two!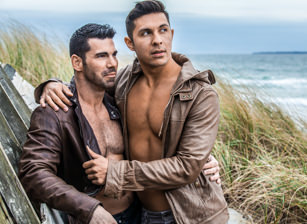 Description :
Witness a true intimate encounter between porn power couple Billy and Seth Santoro. With absolutely no holding back, hot real-life passionate bareback sex follows an interview that fans won't want to miss. From the physicality of first impressions to the nurturing nature of unconditional love.

Pulling his shirt over his head, Seth reveals his pert nipples on a smooth muscular chest. Pulling his husband close to him, Billy kisses his husband from top to bottom, kissing his smooth stomach, his hand caressing his abs up and down. Billy carefully pulls off Seth's pants, exposing toned thighs lightly dusted with hair. Sliding off his partner's briefs, his thick lips savor Seth's stiff rod from base to tip before taking his whole cut cock into his mouth.

Seth grabs his husband's ass, before he takes Billy's shaft in hand, working his lips up and down over Billy's domed cockhead. Billy giving his husband earnest glances before kissing intently, Billy pulls Seth's thighs closer to him, urging him into a humping motion. Seth penetrates his hairy hole, pushing into him as Billy thrusts back onto his stiff rod.

Billy climbs on top, riding his husband bareback, his hips rocking back and forth as his ass strokes the raw cock inside him.

Propping billy up with a pillow, Seth fucks his muscular bottom with an increasing tempo. Pulling Seth into him encouragingly, the intensity builds to a crescendo, passionately making out before Seth pulls out and shoots all over Billy's abs. Seth light rubs Billy's chest and abs, Billy trembling with intensity as he cums his thick load onto his own stomach.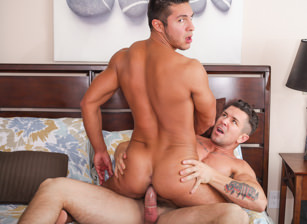 Description :
Trenton Ducati visits the confession booth to explain why he's been feeling so guilty and to ask for forgiveness for his sins. He tells the priest that he caught his girlfriend's brother coming out of the shower of the master bedroom and was surprised by how hot he found his visitor, Seth Santoro. They look into each others eyes and Trenton grabs Seth, pulling him in for a hard kiss. He removes Seth's towel and finds that his girlfriend's brother is already rock hard, and quickly drops his shorts as well. Trenton flips over into a sixty-nine position so they can both suck each other off at the same time. When both muscular men are ready, Seth slides Trenton's cock into his bubble butt, and moans in pleasure as Trenton thrusts all the way inside. The guys seperate, but only for an instant, so that Trenton can lick Seth's nipples, suck his dick and play with his balls. Trenton then re-enters Seth and fucks him every which way until they both gush cum.